About FCSL
Future Communications & Systems Lab (FCSL) is a telecommunication research laboratory at the School of Electronic Engineering in Kumoh National Institute of Technology (kit). FCSL focuses on developing novel communication methods for diverse area from algorithm level to robotic implementation. Our goal is to provide creative and well established communication knowledge by adapting heterogeneous technologies. Research efforts also include addressing key questions in computer science and electronic engineering.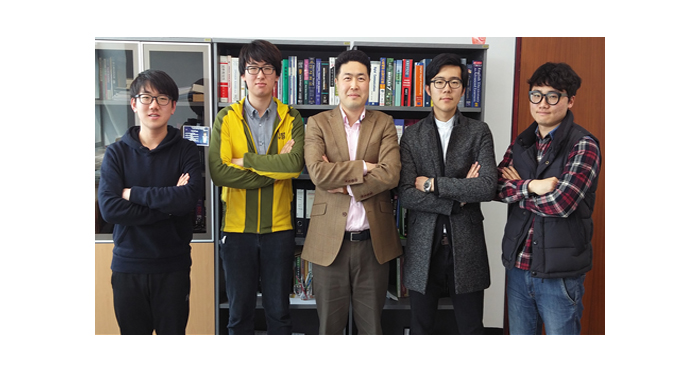 Research Area
Communication Theory
Brain Computer Interface (BCI)
System Optimization
Estimation and Detection
Representative Projects
EU FP7 Project: A Converged Copper-Optical-Radio OFDMA-based access Network with high Capacity and Flexibility (ACCORDANCE)
Homepage : http://www.ict-accordance.eu/
The ACCORDANCE STREP project composed by partners from Estonia, France, Germany, Greece, Spain and United Kingdom, investigated on a new paradigm for the access network: The introduction of OFDMA (Orthogonal Frequency Division Multiple Access) into a Passive Optical Network (PON) architecture offering at the same time optical backhauling for wireless and copper-based networks.
Participation period : August 2010 – July 2013
Representative Projects
"Backhaul-Aware User Association in FiWi Enhanced LTE-A Heterogeneous Networks," IEEE Transactions on Wireless Communications, 2015.
"Dynamic Bandwidth Allocation in Heterogeneous OFDMA-PONs Featuring Intelligent LTE-A Traffic Queuing," IEEE/OSA Journal of Lightwave Technology, 2014.
"Dynamic Subcarrier Allocation for 100 Gbps, 40 km OFDMA-PONs with SLA and CoS," IEEE/OSA Journal of Lightwave Technology, 2013.
"Multicast polling for 10G-EPON," IET Electronics Letters, 2012.
"Analytical time-domain model for radio over free space optical (RoFSO) systems under turbulence channels," IEEE Transactions on Aerospace and Electronic Systems, 2012
Call for Personnel : Phd/MSc Researchers
Free thinking, passionate, creative, responsible person
Person wants to learn practical knowledge
Classes taught in 100% English
Benefits
Support tuition fee
Monthly stipend
Research collaboration with UK and Canada
Personal desk, PC, etc.
Contact Information
Prof. Wansu Lim
wansu.lim@kumoh.ac.kr
+82-54-478-7489