"You can be a global business leader.""
Fostering creativity and challenging administration experts
Extensive opportunities of becoming business consultants, financial analysts, CPAs, ets.
Business administration is a scientific and social discipline that studies and develops various important decision-making methods necessary to operate business.
In this context, business administration is gradually expanding its scope and ranges; now it is becoming an essential knowledge indispensable for living in modern society. The department, reflecting the demands of the times, presents the latest administration principles and techniques to foster creative and challenging talents as experts in management fields.
The curriculum includes basic subjects such as business statistics, organizational behavior, quantitative business, business ethics, as well as several skill subjects such as financial management, personnel management, marketing, accounting, production management, and management information system. In addition, diversified education processes in which these skill subjects were converged are provided, including management strategy, decision-making theory, marketing communication, and administration consulting.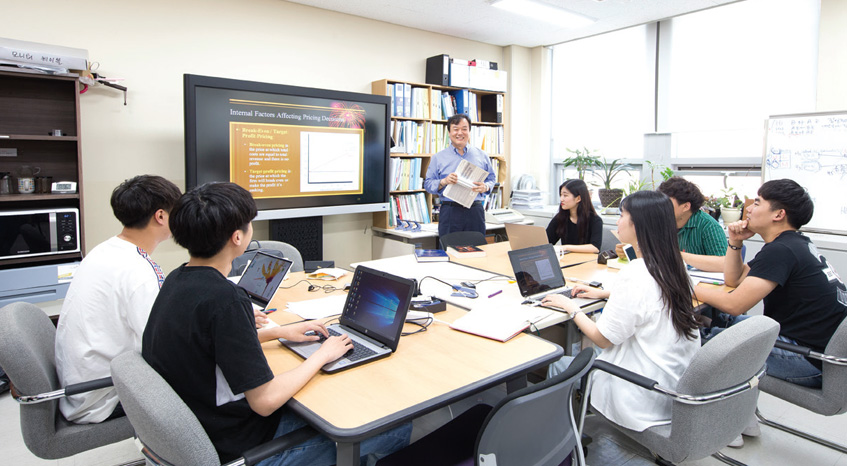 Careers after graduation
Financial institutions, general companies, public and private research institutes, venture companies, public officials, CPA, accountants, management consultants, advertising and public relations, quality, planning, management information, labor-management relations
Sources of pride
Fosters creative convergence talent by providing presentation, creativity, teamwork, problem solving, and strategic thinking through interactive communication
Enhances global competency through overseas exchange programs
Students acquire qualification through major club activities and have opportunities to participate in competitions
Educational system that respects the values of individual students and makes them express potentials